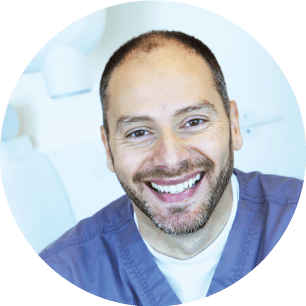 Dr. Ghassan El-Onsi
Dr. Ghassan El-Onsi began his educational journey at McGill University graduating with a degree in Microbiology and Immunology. From there, he went on to the University of Michigan to study dentistry and then to McGill University where he graduated with his Doctor of Dental Surgery degree in 1998. He then went on to pursue graduate training as part of a General Practice Residency at the Montreal General Hospital. His passion for being involved with dental education never abated. Since 1999, Dr. El-Onsi has been teaching in various capacities at both the graduate and undergraduate programs at McGill University's Faculty of Dentistry.
Dr. El-Onsi is an Invisalign® certified treatment provider and a graduate of the prestigious Misch International Implant Institute having completed numerous advanced bone and soft tissue grafting mini-residencies. He has also earned a Fellowship from the International Congress of Oral Implantologists as well as a Fellowship from the Academy of General Dentistry.
Dr. El-Onsi's practice mainly focuses on minor oral surgical procedures such as the extraction of wisdom teeth and the placement of dental Implants. He is also certified in Nitrous Oxide & Oral Sedation from the University of Toronto and in IV (intravenous) Sedation from the Toronto Implant Institute, enabling him to offer patients the option of sedation during surgical procedures.
While Dr. El-Onsi is known for his excellence in dentistry, his favourite part of the job is turning a patient's anxiety into comfortable laughter by the end of the experience. On a personal note, he loves to play soccer and has even coached several teams to sweet victories.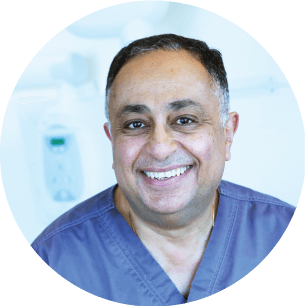 Dr. Camil Rafla
Dr. Camil Rafla graduated from the faculty of Dentistry at Alexandria University.
In 1996, he fulfilled the qualifications of the National Dental Examining Board of Canada and has been practicing in Québec ever since. He is a member of the Ordre des dentistes du Québec (ODQ), the Quebec Dental Surgeons Association (QDSA ), the Canadian Dental Association, and the Laval Dental Society.
Other honourable mentions – he participated in a postgraduate course, Comprehensive Restorative Dentistry, at the University of Western Ontario. He also followed a course of study, at the Institute for Advanced Laser Dentistry (IALD) which focused on the theory & practical application of dental laser.
He focuses on a range of services, including general dentistry, gum treatment, prosthodontics (crowns & bridges, inlays & onlays), preventive follow-ups and esthetic treatments and restorations (veneers & whitening). He's also our resident tri-linguist, fluent in English, French & Arabic and prides himself on giving special attention to kids and anxious patients.
Dr. Anto Youssef
A University of Montreal graduate, Dr. Anto Youssef has been practicing dentistry for almost 20 years. Previous to his dental education, he had studied Microbiology and Immunology, where he developed his knowledge of the medical aspect of infectious diseases and infection control. After completing his Doctorate of Medicine in Dentistry, he started practicing as a dentist, mainly in the West Island and the Vaudreuil-Dorion areas.
The passion for dentistry led Dr. Anto Youssef to continue learning in pursuance of keeping up to date in the latest science and techniques of all various fields. He has mainly focused on orthodontics (braces), periodontics (gum disease), implant dentistry, Invisalign, and endodontics (root canal treatment). Dr. Youssef is a generalist dentist who treats patients needing minor procedures in these fields, while working with renowned specialists. His curiosity for dental science has made him travel to other countries, like Germany, Singapore, and Japan, to explore different techniques and different views of dentistry.
Dr. Anto Youssef is also very familiar with medical blogging and social media. His love for sharing dental information has developed him into a very accomplished blogger, who is now know locally and internationally! He is very aware of the different views that exist within dental approaches and treatments and he likes to enlighten the general public, as well as his patients, in answering any dental inquiries they might hold.
As a dentist, Dr. Anto Youssef practices general dentistry, providing for his patients treatments such as fillings, minor surgery and wisdom teeth extractions, Invisalign, minor orthodontics, gum disease treatments, dental implant restorations, and minor root canal treatments. Apart from dentistry, Dr. Youssef is an apprentice but diligent photographer, mainly focusing on landscape and architectural figures.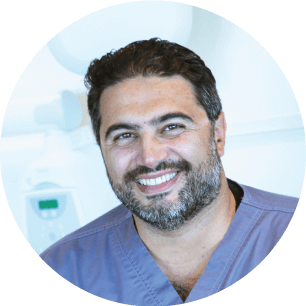 Christian Chbat
​Christian has been giving people smiles for over a decade. He literally makes people's smiles. He regards a simile as such an important, non verbal way to communicate. It's a sign of happiness and well being. Christian gives people a chance to smile, eat, and be confident about themselves. He takes care of his patients like he takes care of his family!